South Staffordshire War Memorials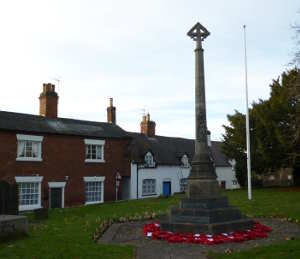 Dedicated to the memory of all the men and women of the South Staffordshire area who died during the two World Wars.
G W Pearce
George William Pearce was born in Dublin in about 1872. He was the son of Samuel Pearce, a Private in the Grenadier Guards and his first wife, Elizabeth. By 1881 the family were living at Chelsea Barracks, London and by 1891, after Samuel had left the Army and was working as a bootmaker, they lived in Berwick Street, St George Hanover Square, London. George (aged 19 in 1891) was working as a postman. At some point George married Annie Louise. At the time of George's death they lived at West Gate, Brewood.
George joined up in September 1914 (when he would have been about 42). He served with the 11th Battalion London Regiment (Finsbury Rifles) but was discharged 'sick' on 16th February 1916. He died on 22nd November 1918 and is buried in the churchyard of SS Mary & Chad, Brewood.
Rifleman George Pearce, 2893, does not appear to have been awarded any medals - which suggests that he did not serve overseas.
This memorial has mostly been compiled from official sources. It would be good to be able to expand it with more personal material - memories, stories, photos, etc. If you have any suitable material or any corrections please contact Greg.