South Staffordshire War Memorials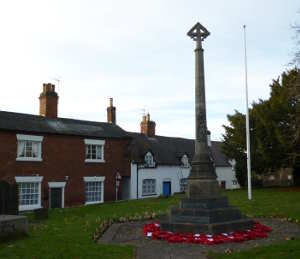 Dedicated to the memory of all the men and women of the South Staffordshire area who died during the two World Wars.
S Sargeant
Samuel Ernest Sargeant was born in Brewwod in 1887 and was baptized at the Parish Church on 17th July of that year. He was the son of George Sargeant, a farm waggoner, and his wife Ann. At the time of Samuel's baptism the family lived at Barn-houses. By 1901 the were living in the cottages at Woolley Farm - where Samuel was working as a farm servant in 1911 when he was 14 years old.
Samuel enlisted towards the end of 1916. He died of pneumonia on 11th February 1917, having served for less than six months. He is buried in the churchyard of SS Mary & Chad, Brewood.
This memorial has mostly been compiled from official sources. It would be good to be able to expand it with more personal material - memories, stories, photos, etc. If you have any suitable material or any corrections please contact Greg.