South Staffordshire War Memorials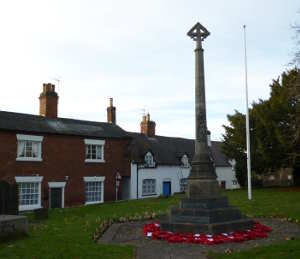 Dedicated to the memory of all the men and women of the South Staffordshire area who died during the two World Wars.
C Wakelam
Christie Warner Wakelam is said to have been born in Brewood in about 1898. He was the son of Walley Heath Wakelam, a groom, and his wife Alice Heafield Wakelam. In 1901 the family lived in Newport Street, Brewood. By 1911 they had moved to Somerford but Christie was living with his grandmother Sarah Warner at High Green, Brewood. Christie's parents later moved to Newport, Salop.
Christie appears to have joined up in about March 1917. He served briefly with 1/6 South Staffs and 2/7 Manchesters before being posted to the 14th Battalion Royal Tank Corps with whom he was serving when he died.
Christie died of wounds on 11th August 1918 - three days after the Tank Corps had played a significant role in the Battle of Amiens. He was buried in Dury Hospital Military Cemetery but his body was later moved to Villers-Bretonneux Military Cemetery.
Private Christie Wakelam 301822 (previously 203109 and 295165) was awarded the Victory and British War Medals.
This memorial has mostly been compiled from official sources. It would be good to be able to expand it with more personal material - memories, stories, photos, etc. If you have any suitable material or any corrections please contact Greg.