James Richard Bennett.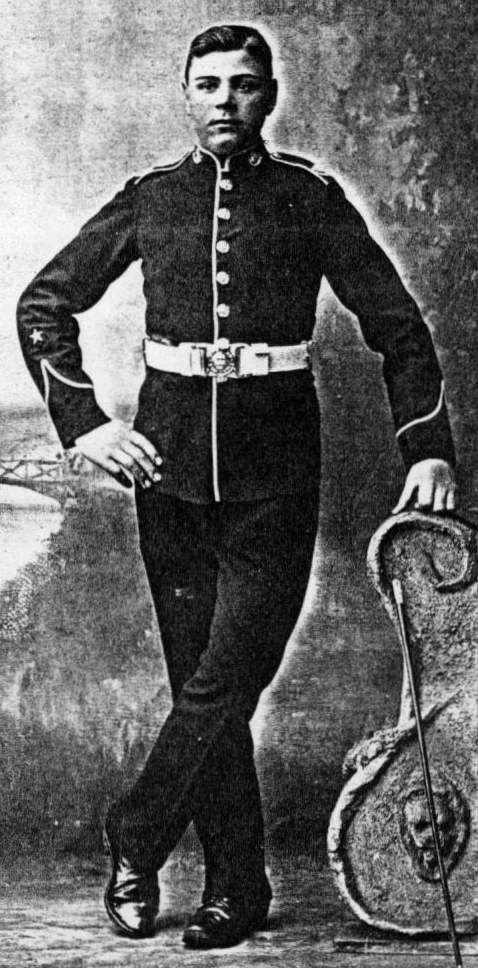 Photo courtesy of Liz Brown
James Richard Bennett was born at Weston-under-Redcastle, Shropshire where he was baptised on 18th May 1884. He was the son of Alfred Bennett, a farm labourer, and Sarah Jane his wife. The family moved about a lot (to the extent that, in 1911 James declared that he did not know his place of birth). In 1891 they were living in the Lizard area of Shifnal and in 1901 at 78 Bushbury Road, Heath Town, Staffordshire.
James married May Lewis in 1909. The couple lived in Northop, Flintshire, Wales, for a while before moving to Coven, Staffordshire. They had two sons, Wilfred and George. James' parents lived for a while in Sandy Lane, Brewood.
Presumably James had previously served in the King's Shropshire Light Infantry as he (re-)enlisted in August 1914 and was sent to France in September. He was killed in action on 23rd October, 1914 during the Battle of Armentieres when the Ist KSLI were in trenches in front of Le Quesne Farm:
".. at 4.15 a.m. on the 23rd the Germans attacked in force. The brunt of the attack fell upon the K.S.L.I. and the York and Lancs, and was repulsed with heavy loss to the enemy. Further attacks followed in succession throughout the day without any ground being gained by the enemy. Over 200 enemy dead were counted in front of the K.S.L.I. trenches alone. A last attack was launched against the battalion at 5 p.m., but was repulsed as before." [Wood: History of the KSLI in the Great War p.5.]
Private James Bennett, 7365, was awarded the Victory and British War Medals and the 1914 Star with Clasp. He is commemorated on the Ploegsteert Memorial, Belgium.
This memorial has mostly been compiled from official sources. It would be good to be able to expand it with more personal material - memories, stories, photos, etc. If you have any suitable material or any corrections please contact Greg.