South Staffordshire War Memorials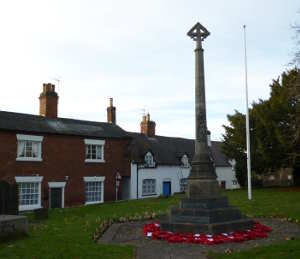 Dedicated to the memory of all the men and women of the South Staffordshire area who died during the two World Wars.
John Gibney
John Joseph Gibney was born in Brewood in 1879. He was the son of James Gibney, an electro-plater, and his wife Jane. The family had lived in Wolverhampton until about 1878 and were living in Birmingham by 1881 so John may have been born on a visit to Brewood - or while his family lived in the village for a short while.
By 1901, when John was 21, he was living in Nottingham and working as an electro-plater and polisher in the cycle industry. John married Annie Ther in Nottingham in 1897 and by 1911 they had two sons and a daughter.
John appears to have enlisted in January 1915, serving with the 6th King's Own (Royal Lancaster Regiment). He did not recieve the 1914/15 Star - so was probably not with his regiment when it went to Gallipoli in July 1915. He may have gone overseas when the 6th was withdrawn from Gallipoli and sent to Mesopotamia in January 1916.
John was killed in action in Mesopotamia (modern day Iraq) on 12th February 1917 while his battalion was part of the column fighting its way towards Baghdad - possibly in the Battle of Kut al Amara or the Capture of the Dahra Bend. He is commemorated on the Basra Memorial.
Private John Gibney was awarded the Victory and British War Medals.
This memorial has mostly been compiled from official sources. It would be good to be able to expand it with more personal material - memories, stories, photos, etc. If you have any suitable material or any corrections please contact Greg.