South Staffordshire War Memorials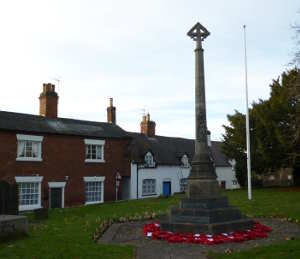 Dedicated to the memory of all the men and women of the South Staffordshire area who died during the two World Wars.
John Gwilt
John Gwilt was born at Burwarton, Shropshire in 1881. He was the son of Thomas Gwilt, an agricultural engine driver, and his wife Mary. The family lived at Brights Corner, Burwarton, Shropshire. In 1911 John, aged 29, was living with his parents and was working as a threshing engine driver. He married Fanny Louisa Smout - probably at Abdon - in 1914. After John's death Fanny remarried and lived at Dene Cottage, Brewood.
John was not mobilized until mid-1918 when he joined the 6th Battalion Worcestershire Regiment. He died on 13th November 1918 at Dovercourt Military Hospital nr. Harwich, Essex. He had been in the Army for less than six months. He is buried in the churchyard of St Margaret, Abdon, Shropshire.
John had not served overseas so he received no medals.
This memorial has mostly been compiled from official sources. It would be good to be able to expand it with more personal material - memories, stories, photos, etc. If you have any suitable material or any corrections please contact Greg.