South Staffordshire War Memorials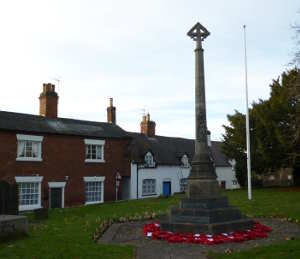 Dedicated to the memory of all the men and women of the South Staffordshire area who died during the two World Wars.
William Holt
William Holt was born at Brewood in 1882. He was the son of Rose Smith, domestic servant at The Stirrups Inn in Stafford Street, Brewood. Shortly after William's birth, Rose married John Holt on December 26th, 1882, at Brewood Parish Church. The family lived at John's family home in Saredon Road, Cheslyn Hay. John was a coal miner and by 1901 William had followed him into the mines: in 1901 he was a loader and in 1911 a horse driver.
William signed up about February 1915 and joined the 7th Battalion South Staffordshire Regiment. After training he was sent to Gallipoli in September 1915 - after the worst of the fighting but just in time for the dreadful weather conditions that caused the deaths of so many soldiers. In December 1915 the 7th were withdrawn from Gallipoli and sent via Egypt to France where they arrived in July 1917 - just as the Somme campaign got underway. The battalion took part in several Somme battles: The Capture of the Wundt-Werk, Flers-Courcelette and Thiepval.
William died on 23rd November 1916. Sources disagree as to whether he was killed in action or died of wounds. He is now buried in Queens Cemetery, Bucquoy, Pas de Calais, France.
William Holt, 17294, was awarded the Victory and British War Medals and the 1915 Star.
This memorial has mostly been compiled from official sources. It would be good to be able to expand it with more personal material - memories, stories, photos, etc. If you have any suitable material or any corrections please contact Greg.