South Staffordshire War Memorials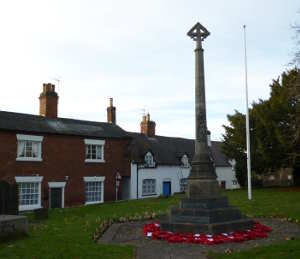 Dedicated to the memory of all the men and women of the South Staffordshire area who died during the two World Wars.
Percy Oliver
Percy Oliver was the son of Edward Oliver, a farm labourer, and Louisa his wife. He was born in Wyke, a hamlet outside Much Wenlock, Shropshire, in 1896. As a farm labourer Edward would have had to move around the countryside to stay in work. The birthplaces of his children show that the family lived at various times at Peplow, Wyke and Wellington before settling at Ash near Whitchurch. Percy also seems to have become a farm labourer - in 1911 he was working at Aston on Clun. The need to move to find work probably explains how he came to be in Brewood when he enlisted in February 1916.
Percy joined the 1/5th South Staffordshire Regiment but later transferred to the 10th Worcestershires. He was killed in action on 20th September 1917, on which day his Division was engaged in the Battle of the Menin Road Ridge - part of the Third Battle of Ypres. Percy is commemorated on the Tyne Cot Memorial to the Missing of the Ypres Salient.
Private Percy Oliver, 39879 (formerly 1478), was awarded the Victory and the British War Medals.
This memorial has mostly been compiled from official sources. It would be good to be able to expand it with more personal material - memories, stories, photos, etc. If you have any suitable material or any corrections please contact Greg.