South Staffordshire War Memorials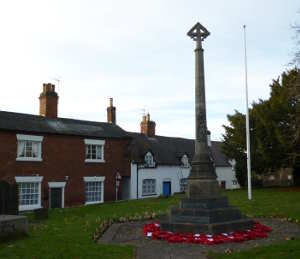 Dedicated to the memory of all the men and women of the South Staffordshire area who died during the two World Wars.
James Onion
James Onion was born at White Pump, Brewood, in 1891. He was the son of James Onion and his wife Annie. James senior had worked as a roadman for the County Council and in 1911 he was manager of a sewage farm.
In 1911, nineteen year-old James was living in Wolverhampton where he was working as a billiard marker at the Star and Garter Hotel in Victoria Street. James enlisted in about March 1915 and joined the 7th Battalion South Staffordshire Regiment. He was sent to Gallipoli but arrived there just before his battalion was evacuated to Egypt. In July 1916 the battalion moved to France where it took part in several actions during the Battle of the Somme: The Capture of the Wundt-Werk on 14th September; the Battle of Flers-Courcelette on 15-22 September and the Battle of Thiepval on 26-28 September. At some point James was wounded and moved to the 22nd General Hospital at Etaples where he died of his wounds on 14th of October. He is buried in Etaples Military Cemetery.
Private James Onion was awarded the Victory and British War Medals and the 1915 Star. James's brother Fred also died during the war.
This memorial has mostly been compiled from official sources. It would be good to be able to expand it with more personal material - memories, stories, photos, etc. If you have any suitable material or any corrections please contact Greg.