South Staffordshire War Memorials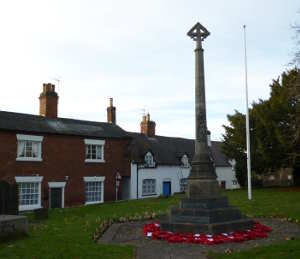 Dedicated to the memory of all the men and women of the South Staffordshire area who died during the two World Wars.
Charles Onion
Charles Onion was born in Brewood on 11th July 1898 and was baptised at the Catholic Church on July 17th. He was the son of Edward Onions and his wife Annie. In 1901 the family lived at Shutt Green but by 1911 they had moved to Bell Fields, Stretton, where Edward worked as reservoir attendant. In 1911 Charles was aged 12 and was still at school.
Charles enlisted at the end of 1915. He was posted to the South Staffordshire Regiment where he spent time with the 1st, 9th and 2/6th battalions. He was killed in action on 1st December 1917 during the Cambrai Operations. On that day the 2/6th battalion sustained many casualties from artillery fire preceding a German counter-attack. Charles is buried in Orival Wood Cemetery, Flesquieres.
Private Charles Onion, 20486, was awarded the Victory and British War Medals.
This memorial has mostly been compiled from official sources. It would be good to be able to expand it with more personal material - memories, stories, photos, etc. If you have any suitable material or any corrections please contact Greg.