South Staffordshire War Memorials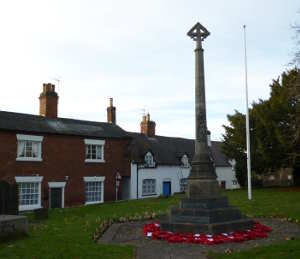 Dedicated to the memory of all the men and women of the South Staffordshire area who died during the two World Wars.
John Southall
John Southall was the son of Felix, a labourer, and his wife Catherine. He was born at Bishopswood in 1876 where he lived for most of his life, working as a labourer on farms and on the canal. John joined up late 1916 / early 1917 and after a brief spell with the Lincolnshire Regiment he was transferred to the Labour Corps - probably because of his age (he was in his early 40s).
The Labour Corps was formed in January 1917. It was composed of men who were able bodied but who had been graded unfit for fighting. They took over the work of building and maintaining the vast infrastructure that supported the army. Though less at risk than the front-line units the men of the Labour Corps were still exposed to enemy artillery and the general danger of just being in the wrong place at the wrong time.
John Southall was killed in action on 18th August 1917 - probably during the Battle of Langemarck phase of the Third Battles of Ypres. He is buried Outtersteene Communal Cemetery Extension, Bailleul, France.
Private John Southall, 28604 (previously Lincolnshire Regiment 46179) was awarded the Victory and British War Medals.
This memorial has mostly been compiled from official sources. It would be good to be able to expand it with more personal material - memories, stories, photos, etc. If you have any suitable material or any corrections please contact Greg.