South Staffordshire War Memorials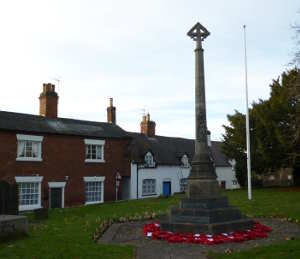 Dedicated to the memory of all the men and women of the South Staffordshire area who died during the two World Wars.
Walter Francis Willock
Walter Francis Willock was born at Bishops Wood in 1888. He was the son of Richard Willock, a carter, and his wife Bridget. Bridget died when Walter was two years old. In 1901 Walter was visiting the family of John Barnes, Blacksmith, in Lower Pendeford (whose family included a number of Willock step-children).
Judging from his military serial number, Walter enlisted in the 2nd Battalion Grenadier Guards at around the time of his seventeenth birthday in 1905. He had returned to civilian life by the time of the census in 1911 when he was living in Codsall and working as a nurseryman's labourer.
At the outbreak of war, Walter was probably still on the reserve as he appears to have been mobilized in August 1914. He went to France at the beginning of January, 1915 so may have seen action at the Battles of Festubert and Loos. In 1916 the 2nd Grenadier Guards were involved in several phases of the Battle of the Somme. Walter was killed in action on 15th September at the start of the Battle of Flers-Courcelette, during which his battalion lost more than a hundred men. Walter Willock is commemorated on the Thiepval Memorial for causalties of the Somme who have no known graves.
Private Walter Francis Willock, 12041, was awarded the Victory and British War Medals and the 1915 Star.
This memorial has mostly been compiled from official sources. It would be good to be able to expand it with more personal material - memories, stories, photos, etc. If you have any suitable material or any corrections please contact Greg.