South Staffordshire War Memorials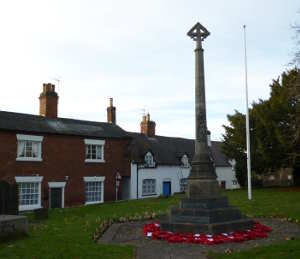 Dedicated to the memory of all the men and women of the South Staffordshire area who died during the two World Wars.
P Bradley
Patrick Bradley was born in 1877. He was the son of James Bradley, a labourer, and his wife Bridget. James and Bridget had moved to the area from Co. Mayo, Ireland, probably in the 1860s. They had lived in Wheaton Aston before settling in Brewood in about 1870, where they lived for a while in Sandy Lane before settling at Dawescroft Foreign.
Patrick worked as a bricklayer's labourer. He was married to Nellie. He enlisted early in the war, going to Belgium in March 1915 where he served with the 1/6 South Staffordshire Regiment. At the time of his death he was attached to the 172nd Royal Engineers Company - a tunnelling unit engaged in offensive mining operations in the St Eloi area. He was killed in action on 6th June 1915 and is buried in Perth Cemetery (China Wall) near Ieper, Belgium (Ypres).
Private Patrick Bradley 3170 1/6 South Staffordshire Regiment was awarded the Victory and British Medals and the 1914/15 Star. He is also commemorated on the memorial in St Mary's Catholic Church.
This memorial has mostly been compiled from official sources. It would be good to be able to expand it with more personal material - memories, stories, photos, etc. If you have any suitable material or any corrections please contact Greg.