South Staffordshire War Memorials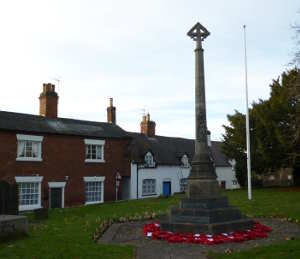 Dedicated to the memory of all the men and women of the South Staffordshire area who died during the two World Wars.
James Snead
James Snead was born in Wolverhampton on 18th March 1899. He was the son of George Snead and his wife Sarah Ann. George worked as a labourer at a Wolverhampton gas works in 1901 but in December 1910 the family moved to Coven Heath where George worked as a night watchman.
After a brief spell as a farm labourer, James joined the Navy as a Boy, 2nd Class in January 1915. He served on HMS Impregnable where he was promoted Boy 1st Class. On 14th May, 1915, he was transferred to the newly refitted HMS Invincible. He was killed in action on 31st May, 1916, when HMS Invincible was sunk at the Battle of Jutland. He is commemorated on the Plymouth Naval Memorial.
Boy 1st Class James Snead, J/33688, was awarded the Victory and British War Medals and the 1914/1915 Star.
This memorial has mostly been compiled from official sources. It would be good to be able to expand it with more personal material - memories, stories, photos, etc. If you have any suitable material or any corrections please contact Greg.