Richard Standeford Pullen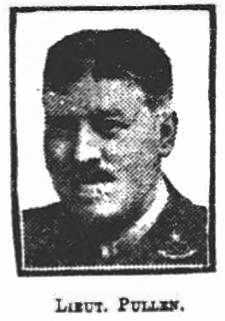 Richard Standeford Pullen was born at Standeford Mill, Coven in 1883 and was baptised at SS Mary & Chad, Brewood on 1st May, 1883. He was the son of John Edward Pullen, miller, and his wife Clara.
Richard was educated at Shrewsbury School and Mason College, Birmingham (one of the colleges which became the University of Birmingham). He married Dora Isabel Gwynneth Hart in 1911. The couple lived in Handsworth and had two children. Richard was a partner in the Wednesbury brewery firm Hickman and Pullen.
Richard enlisted in September 1914 joining the Wolverhampton-based 1/6 Battalion of the South Staffordshire Regiment as a Private. He went to France with his battalion in March 1915 and was almost immediately given a temporary commission. He was killed in action on 26th October 1917 - the first day of the Second Battle of Passchendaele - while attached to the 1st Battalion South Staffs Regiment. He is buried in Hooge Crater Cemetery, near Ypres, Belgium.
Second Lieutenant Richard Pullen was awarded the Victory and British War Medals and the 1915 Star. He was twice mentioned in despatches. His son, Pilot Officer Geoffrey Pullen was killed in the Second World War.
A POPULAR MIDLAND GOLFER KLLLED. . . . Lieut.-Colonel A. B Beauman, writing on October 31, states that on October 26 Sec.-Lieut. R. S. Pullen, S. Staffs. R., fell when leading his company in the attack with the greatest gallantry, in spite of most terrible difficulties, and adds :- "He will be a great loss to the battalion, as he was an able and popular officer. He had a lot of experience, and could always be trusted to do his job well. I saw him a few hours before the attack, and he was most cheery and confident." Mr. Pullen was 34 years of age. He received his education at Shrewsbury School and Mason College, and was a partner in the firm of Hickman and Pullen, Wednesbury. He was married in 1911 to Dora, younger daughter of the late Major A. E. Hart, of Handsworth, and leaves a widow and two children. Mr. Pullen joined the Army in September, 1914, being at that time captain of the Sandwell Park Golf Club, and also a member of the Wednesbury Golf Club where he was exceedingly popular. Lieut. Pullen was twice mentioned in despatches. [Birmingham Mail 06 November 1917]
This memorial has mostly been compiled from official sources. It would be good to be able to expand it with more personal material - memories, stories, photos, etc. If you have any suitable material or any corrections please contact Greg.