South Staffordshire War Memorials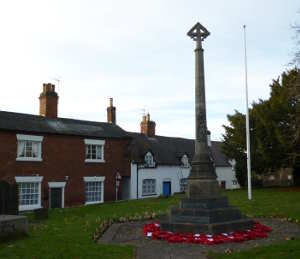 Dedicated to the memory of all the men and women of the South Staffordshire area who died during the two World Wars.
John Holding
John (Jack) Holding was born at Coven Heath in 1891. He was the son of James Holding, a builder's navvy, and his wife Alice. Shortly after John's birth the family moved to Heath Town (where they were still living in 1901). By 1911 they had moved to Finchfield and John (aged 19) was working as a tool miller in the electric motor industry.
John volunteered in Wolverhampton in about January 1915, enlisting in the 9th Northumberland Fusiliers. He went to France with his battalion on 15th July, 1915. He appears to have been wounded on 29th February, 1916, when his Division was involved in fighting at the Bluff (part of the Actions of Spring 1916). At some point he was promoted to Lance Corporal. John went missing on 7th July, 1916 during the Battle of Albert (the opening phase of the Battle of the Somme, 1916) and was later presumed dead. He is commemorated on the Thiepval Memorial.
Lance Corporal John Holding, 16489, was awarded the Victory and British War Medals and the 1914-15 Star.
This memorial has mostly been compiled from official sources. It would be good to be able to expand it with more personal material - memories, stories, photos, etc. If you have any suitable material or any corrections please contact Greg.