Dedicated to the memory of all the men and women of the Bridgnorth area who died during the two World Wars.
Bridgnorth: St Leonard, Church of England - War Memorial - World War I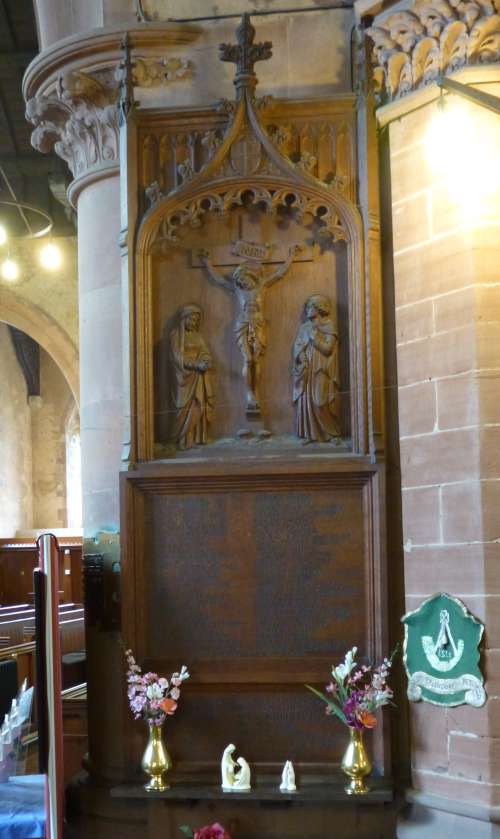 Bridgnorth: St Leonard, Church of England - War Memorial - World War I
Carved oak. A carved crucifix with two mourning figures above a board which contains an alphabetical list of names. The lowest panel contains the inscription: 'Let us remember with honour and love those who from this parish and congregation gave their lives during the Great War 1914 - 1918. Let us thank God for their example and pray that we may live worthily of the sacrifice they made.'
Left Hand Column
PERCY BEAMAN CHARLES BERRY WILLIAM BRIGGS SIDNEY JOHN BRIGGS EDWARD BROWN ERIC FRANK BURTON FRANK CARTWRIGHT GEORGE CHILDS EDWARD COOPER JOHN LESLIE DAIN ALBERT EDWARD DUKES WILLIAM EDWARDS ROBERT EDWARD FOXALL ALAN LEE GEORGE REGINALD GREGORY PERCY JOHN GRIFFITHS SIDNEY HAINES ALBERT VICTOR HALL WALTER HAYWARD EDWARD HEAD FREDERICK HEAD THOMAS HIGGINS CHARLES HENRY HINTON EDWARD JENNINGS ALBERT JOHN JOHNSON ALBERT JOSEPH JOHNSON CHARLES JAMES JONES
Right Hand Column
ALBERT JONES ALFRED JONES HARRY MARTIN JONES FREDERICK LANGFORD FRANK LAWLEY HENRY LEITH EDWARD LESTER HUGH CHARLES MAYNARD COLIN J W McMICHAEL JOSEPH OAKLEY WILLIAM ORMESHER HORACE CYRIL PRICE HERBERT REDDEN CHARLES FREDERICK ROBERTS WALTER SHERRY GEORGE HENRY SHERRY THOMAS CHARLES SMALLMAN ERNEST JAMES SOUTHWELL DOUGLAS SPURWAY FREDERICK GEORGE STACEY ERIC HUMPHREY STARKEY GEORGE HENRY TAYLOR WILLIAM THOMAS HAROLD WELCH ALBERT WOOD WILLIAM EDGAR YATES RICHARD THURSFIELD
Bottom, Centre
This memorial has mostly been compiled from official sources. It would be good to be able to expand it with more personal material - memories, stories, photos, etc. If you have any suitable material or any corrections please contact Greg. For news of updates follow @BridgnorthHeros on Twitter.