Dedicated to the memory of all the men and women of the Bridgnorth area who died during the two World Wars.
Ditton Priors Parish Church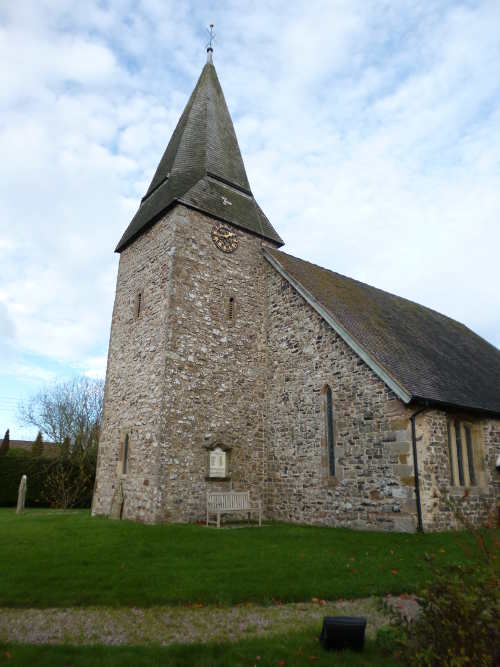 The memorial takes the form of a clock in the church tower. A stone framed marble plaque set in the tower under the clock is inscribed with the names of the men of Ditton Priors who gave their lives in the Great War.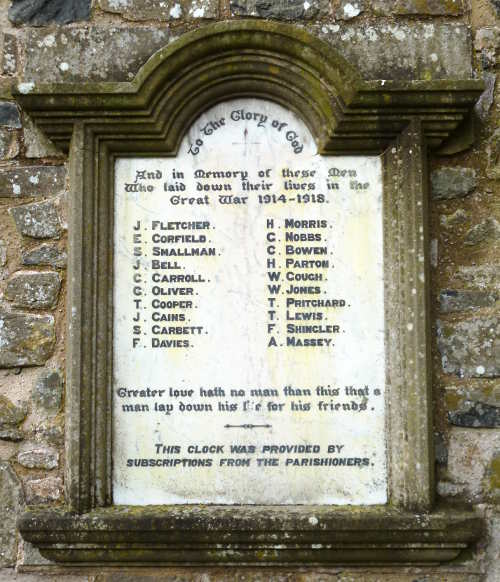 Names in Alphabetical Order
J. Bell C. Bowen J. Cains C. Carroll T. Cooper
E. Corfield
F. Davies
J. Fletcher
S. Garbett
W. Gough
W. Jones
T. Lewis
A. Massey
H. Morris
G. Nobbs
G. Oliver
H. Parton
T. Pritchard
F. Shingler
S. Smallman

These men have previously been researched by Hugh R. Bryan whose booklet The Fallen Heroes of Ditton Priors was published in 2002.The Fallen Heroes includes photographs of many of the men and information from their families.
This memorial has mostly been compiled from official sources. It would be good to be able to expand it with more personal material - memories, stories, photos, etc. If you have any suitable material or any corrections please contact Greg. For news of updates follow @BridgnorthHeros on Twitter.