Bridgnorth: Bridgnorth Grammar School - War Memorial - World War I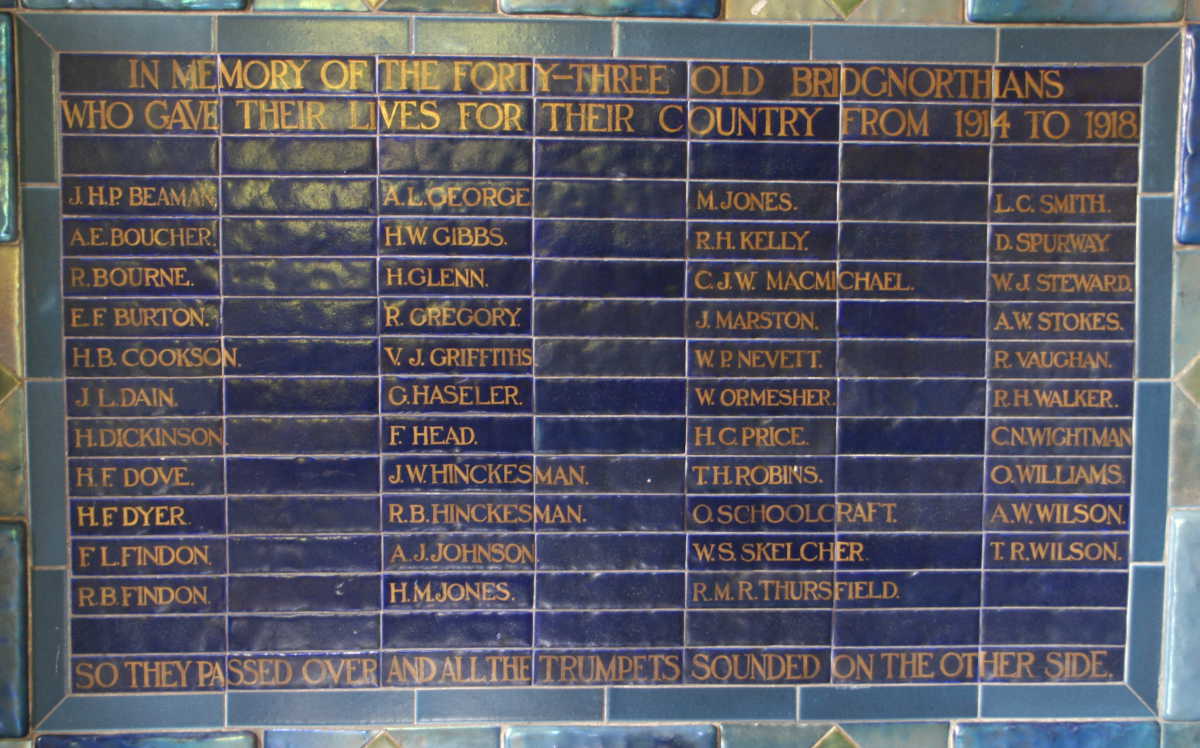 Bridgnorth: Bridgnorth Grammar School - War Memorial - World War I
Two memorials. The first is made of painted ceramic tiles 'In memory of the forty-three Old Bridgnorthians who gave their lives for their country from 1914 to 1918' with a quotation adapted from John Bunyan: 'So they passed over, and all the trumpets sounded on the other side.' The names are listed alphabetically.
The second memorial is of three wooden panels in an oak frame surmounted by a carved laural wreath. The men are listed by year of death. This memorial gives the rank and unit of each man.
The memorials include twenty-one men who are not otherwise commemorated on war memorials in Bridgnorth.
Composite List in Alphabetical Order
J H P BEAMAN Pte, ASC, 1918 A E BOUCHER MC Lieut, 11th RWR, 1916 R BOURNE 2nd Lt, RHA, 1917 E F BURTON Lce Cpl, Princess Pat LI, 1915 H B COOKSON 2nd Lt, 1st E Yorks, 1917 J L DAIN Pte, 14th R War R, 1916 H DICKINSON CF Capt [Art Rif], 1917 H F DOVE Pte, 13th K R R, 1917 H F DYER 2nd Lt, 1/6 Duke-Well WRR, 1917 F L FINDON Pte, 14th R War R, 1916 R B FINDON Sgt, 14th R War R, 1916 A LEE GEORGE 2nd Lt, 15th RWR, 1918 H W GIBBS Lieut, RHA, 1918 H GLENN Pte, 1st King's Liv R, 1918 R GREGORY Lce Cpl, 7th Lancs Fus, 1918 V J GRIFFITHS Pte, ASC, 1918 G HASELER L Sgt, Ox [& Bucks LI], 1915 F HEAD Pte, 1st N Staffs, 1916 J W HINCKESMAN Lieut, Can In, 1917 R B HINCKESMAN Lce Cpl, K E [Lt Hse], 1915 A J JOHNSON Sgt, 7th R W R, 1916 H M JONES Capt, 8th RWR, 1918 M JONES 2nd Lt, Worcs R, 1917 R H KELLY 2nd Lt, RAF,1920 C J W MACMICHAEL Pte, [Lond Sc], 1918 J MARSTON L Cpl, KSLI, 1917 W P NEVETT Sgt, 12th Aus R., 1915 W ORMESHER Lieut, King's [Liv R.], 1915 H C PRICE Pte, 1st Devon R, 1918 T H ROBINS Pte, Shrops Y, 1916 O SCHOOLCRAFT RN, TBO, 1918 W S SKELCHER Lce Cpl, RFA, 1917 R M R THURSFIELD Surg, RN, 1919 L C SMITH Pte, Brit Col R., 1915 D SPURWAY Capt, 4th Yorks, 1918 W J STEWARD Sgt, 22nd R Fus, 1916 A W STOKES Sigr, 14th R War R, 1916 R VAUGHAN Pte 10th Can In. 1918 R H WALKER Pte, 11th Bord R, 1916 C N WIGHTMAN Pte, 14th R War R, 1916 O WILLIAMS 2nd Lt, Imp Cam C [?], 1917 A W WILSON Pte, 9th[?] R Fus, 1917 T R WILSON 2nd Lt, Tank Corps, 1917
This memorial has mostly been compiled from official sources. It would be good to be able to expand it with more personal material - memories, stories, photos, etc. If you have any suitable material or any corrections please contact Greg. For news of updates follow @BridgnorthHeros on Twitter.