Great Uncle Charles
By the late Ann Meadows, his grandaughter.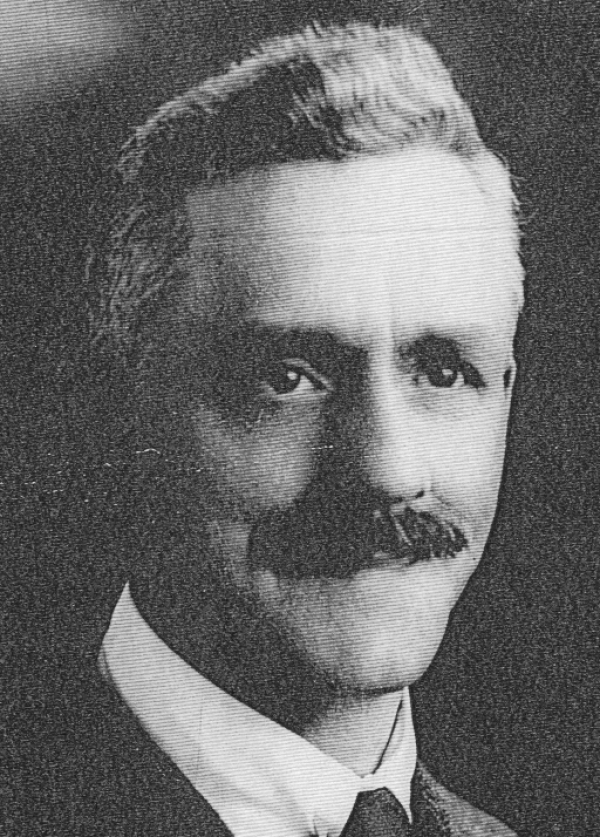 Charles Lewin, 1875 - 1959
Charles William Lewin was born on 28th April 1875 at Middle Hill, Egham, Surrey, the third son of William Lewin and Amelia Gentry. Their first son William born 1870 died before the age of one and a second son born 1873 was also named William. Charles (known as Charlie) also had an older sister Ellen born 1872 who died at 10 years of age. At the time of Charlie's birth his father was a butcher in Egham. His sister Alice and brother Frederick were also born in Egham in 1877 and 1879 respectively. Shortly after Alice was born the family moved from Egham to London's East End where at the time of the 1881 census they were at 86 Turners Road Mile End. Here Charlie's father William had a butcher's shop in the premises where Charlie lived for the next 20 years. Between 1882 and 1894 his mother gave birth to a further 8 children, only 4 of whom survived to adulthood. Catherine (Kate) 1882; Edith (Edie) 1883; Ethel 1885 died 1891; Harry 1886 died the same year; Hilda 1887 died 1888; Mabel 1889 died the same year; Herbert (Herbie) 1890 and Louis Leonard (Len)1894
In 1892 aged 16 Charlie obtained an electrical apprenticeship at a gasworks, thought to be Bow Common. In November of that year he applied to the Superintendent Registrar at Windsor for a copy of his birth certificate which he required under the Factory and Workshop Act 1891. It seems likely, but not yet proven, that he would have studied at the newly opened Technical Institute housed in the former People's Palace in Mile End Road, now part of the Queen Mary College buildings.
Charlie appears to have had little contact with any grandparents. His Lewin grandparents had died long before he was born and left his father an orphan as a child of 11. His mother's parents John and Charlotte Gentry lived in Essex and though there was some known contact it was unlikely to have been frequent though some of his sisters appear to have had contact with members of the wider family, particularly the Wrights. Charlie's Lewin and Gentry grandmothers are thought to have been sisters, whose maiden name was Wright. There appear to have been few cousins, at least that he was in contact with. One, Richard Smith his father's older sister Sarah's son, appears to be living with him at Turners Road in 1901, though he is recorded as a nephew. It seems likely that William lost touch with Sarah after he left home a few years after their parents died. Sarah married into a boat building family in Kent but following the death of her husband she and her son became destitute and are in a workhouse in the1891 census. Contact must somehow have been re-established later.
Around 1900 Charlie's father bought a house in Capel Road East Ham and moved there with his wife and younger children. His older brother William carried on the butcher's business at Turners Road but in 1901 is recorded as a journeyman butcher living in Great Marylebone Street. In that census Charlie is the head of household at Turners Road and it is assumed that he remained living there until his marriage to Edith Musk Hazall at the parish church of St Paul Bow Common on April 4th 1904 aged 27. On their marriage certificate his occupation is given as electrician. Edie was a tailor's seamstress and lived in Baythorne St just around the corner from the Lewins. Her father was a gas fitter at Bow Common Gas Works where Charlie worked.
Following their marriage Charlie and Edie moved to rooms at 50 Huddart Street, just around the corner from the Turners Road premises and it was here that their first child Edith Alice was born on 4th February 1905. Charlie continued working at the Bow Common Gasworks until he moved to Liverpool with his family in 1907. Two of his wife's sisters and their families also moved to Liverpool around this time. The family rented a recently built house at 27 St Andrews Road Bootle and Charlie began work as an electrician at Linacre Gasworks in December 1907. Charlie and Edie's second daughter Ada Amelia was born at St Andrew's Road on 25th September 1910 and on August 19th 1915 Edie gave birth to twin daughters Lena Evelyn and Daisy Ethel.
Charlie kept in touch with his parents William and Amelia and his children remember receiving Christmas parcels from them. They moved on from East Ham to live in Leigh-on-Sea where they remained until their deaths. William died in 1926 aged 81 and Amelia in 1928 aged 79.
Charlie continued to work at Linacre Gasworks until he took early retirement in June 1939. The Gas Company were looking for volunteers to take redundancy and Charlie decided to do this. There was no special redundancy pay at that time but the pension book for Linacre Gasworks, at the Gasworks Archive in Warrington, shows he received a pension of 13/6d per week after 32 years service.
By the end of 1939 Charlie and Edie's daughters had all married. Edie married Sydney Cook in 1932 and was living with their son John aged 2 in Thornton Liverpool. Ada married Harold Finlinson in 1936 and was living in Litherland Liverpool. Lena married Peter Meadows in April 1939 and was living in Coedpoeth, Wrexham and Daisy married Victor Hill in August 1939 and was living in St Andrew's Road with her parents, as her husband was away in the forces.
Charlie's retirement took place the year that war broke out. Liverpool, and especially Bootle were the docks were located, suffered horrendous bombing, second only to that inflicted on London. In May 1940 Ada gave birth to Charlie and Edie's first granddaughter Hilda and, during an air raid on the night of September 10th/11th 1940, his granddaughter Dorothy was born to daughter Daisy. The story of her birth is vividly told in a letterCharlie wrote to daughter Lena a few weeks later. The family home in St Andrew's Road was not seriously damaged during the blitz but after considerable bombardment in May 1942 Charlie and Edie went to live with daughter Lena and her husband Peter in Coedpoeth near Wrexham where Daisy and baby Dorothy had already taken refuge. Later that year they rented a cottage at 36 Middle Road, Nant, Coedpoeth where they lived with Daisy and Dorothy. Ada and Hilda and Edie, Sid and John also moved to Coedpoeth for a period of time.
Conditions at the cottage in the Nant were fairly basic. It was a 'two up and two down' with an Elsan privy in a shed in the garden. The only running water in the cottage was a cold tap in the kitchen. There was no bathroom. The rooms were lit by gaslight. While living with her parents in the Nant Daisy gave birth to her second child Derek born on 11th April 1945, his grandmother's 67th birthday. Dot and Derek, together with cousins Ann and David, Lena and Peter's elder children, have many happy memories of times spent at their grandparents' home in the Nant and were often joined there by cousin John, who for a few years lived with his parents in Tanyfron near Wrexham. Occasionally cousins Hilda and Ian would also visit from Liverpool. Charlie soon became known in the neighbourhood as someone who was good at fixing things as he had considerable patience and was good with his hands. He began making marquetry and tapestry pictures and wooden articles including a sewing box made as a birthday present for daughter Lena. He smoked a pipe and a brass pipe rack hung on the kitchen wall.
Charlie and Edie remained in the Nant until 1947 when the owner of the cottage, who had been a prisoner of war, returned home. They returned to Bootle to live with Daisy and Vic and their family at 93 Linacre Lane where they had set up home when Vic returned to civilian life at the end of the war. Early in 1959 Charlie became ill and was admitted to Walton General Hospital where he died of coronary thrombosis on 14th January aged 83. His funeral took place at Linacre Methodist Mission on January 19th. 1959 followed by cremation at Anfield Crematorium. His ashes were scattered in the garden of remembrance at Anfield as were those of his wife Edie who died two years later.
Of Charlie's brothers and sisters who survived to adulthood the following is known. William (Bill) followed his father into the butcher's trade, married Eugenie, had a son Len in 1916 and died in Southend in 1949 at the age of 72. Alice didn't marry but had an interesting career including time spent in Finland and a period working for the Bishop of London. She is thought to have looked after her sister Edith's daughter Ethel Rosa Whymper for a while. She died in Haslemere in 1937 aged 60 and was buried in Shotermill Cemetery Haslemere. Frederick (Fred) fought in the Boer War, married Ethel Bedford and followed his father as a butcher. He had a shop in Ramsgate and died in Ramsgate in 1940 aged 61. Catherine (Kate) married Fred Camp in 1906. They had 3 children Freddie, Kathleen and Mary. Initially they lived in Tooting and then moved to Plymouth as Fred was in the Navy. He died in HMS Thistle off Durban in 1918 and has a memorial stone in Stellawood Cemetery. Kate died in Plymouth in 1937 aged 55 . Edith (Edie) married Edward Whymper in 1906 and had a daughter Ethel Rosa in 1908. She was legally separated from Whymper who died in 1911. In 1913 she married Cecil Logan in Taunton and died there a few months later aged 30. Herbert (Herbie) married Minnie Bushnell in 1916. They had 5 children, Robert, Margaret, Betty, Victor and Martin. Herbert died in 1962 aged 72. Louis Leonard (Len) also followed his father as a butcher. He married Eva Eaby in 1925 and moved to Canvey Island. They had two sons Frank and Geoffrey. Len was widowed in 1972 and married Lilian Gare in 1977. He was widowed again in 1983 and died later that year in Surrey in aged 89.