Who was Amelia Gentry's Grandad?
Due to the large amount of contradictory information in the Gentry family trees now found on the Internet and especially on Ancestry.com, it is desirable to establish the parentage of the John Gentry who died at Stanford-le-Hope, Essex, 6 Oct 1896 and who was the father of Amelia (Lewin).
Gentry is an unusual name nationally but it is quite common in Essex where there is a large cluster around the town of Bocking. The name's general rarity seems to have tempted researchers unfamiliar with local circumstances to assume connections which are unjustified.
As a result of considering the information given below, I believe that John's parents were the John Gentry and Sarah Ovell who were married at Great Burstead Church on 12th Oct 1814. I think it is very likely that this older John was born in Bocking in about 1785 and that on balance the circumstantial evidence suggests that his parents were Edmund and Ann - although there are at least two other possibilities. Whoever his father was, John is likely to have been a descendant of the Henry Gentry who was baptised at Bocking in 1661 and from whom all the likely fathers are descended.
Birthplace
The 1851 census of Stanford-le-Hope includes both John Gentry (Wheelwright, aged 31) and his daughter Amelia (aged 1). John's birthplace is "Essex, Gt Burstead." John gives this birthplace consistently through successive censuses.
Great Burstead was a parish about seven miles to the North of Stanford-le-Hope. The parish included both the village of Great Burstead and the growing town of Billericay. During the nineteenth century there were Gentrys living in both places. Those from Billericay tended to give that town as their birthplace which reinforces my belief that John was born in the village of Great Burstead.
The records of St Mary Magdalene Church indicate that Gentrys were fairly recent arrivals in the parish. The earliest entry I have found is the marriage of John Gentry and Elizabeth Chessir on 1 Aug 1784.
Age and Date of Birth
John's age as given in the 1851 census would suggest a birth date of 1819 or early 1820. In subsequent censuses he gives:
1861, age 42 (birth date 1818/1819.) Census taken 30/31 March.
1871, age 52 (birth date 1818/1819.) Census taken 7/8 April.
1881, age 61 (birth date 1819/1820.) Census taken 2/3 April.
1891, age 71 (birth date 1819/1820.) Census taken 5/6 April.
These ages are not consistent. If John was 52 in 1871 he could not have been 61 in 1881 or 71 in 1891 when the census was taken later in the year. When John died on the 6th of October, 1896, his age was recorded as 78, suggesting a birth year of 1818 (or late 1817).
Parish / Civil Records
There were no John Gentrys baptised at Great Burstead Parish Church within ten years of 1819 but there is a baptism at Billericay Independent Meeting House, 3 May, 1822 of a John Gentry (born 14 Apr 1818) along with his three brothers, Charles (born 8 Sept 1816), George (11 Dec, 1819) and Walter (27 Oct, 1821). All four boys were born in the parish of Great Burstead to John and Sarah Gentry. A birth date of 14 Apr 1818 is consistent with three of the six censuses which John, the father of Amelia, completed and with his age at death. [This baptism has been on the IGI for many years, resulting in 14 Apr 1818 often being given as the birth date any John Gentry born at around that time - regardless of birthplace or mother's name.]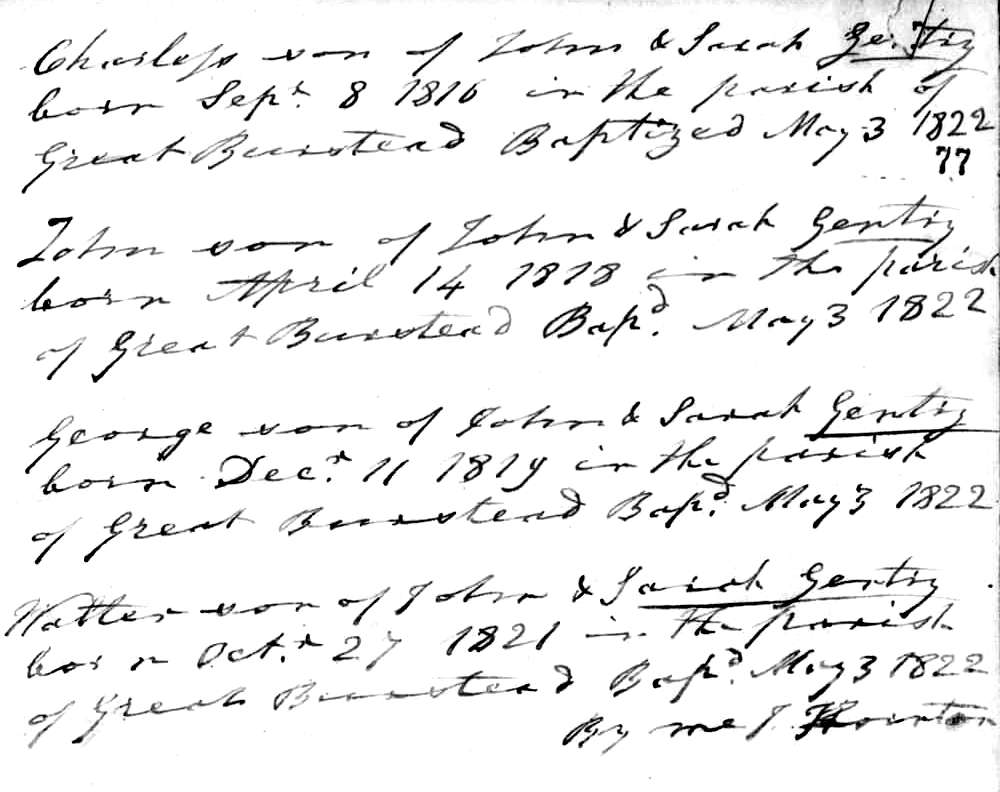 There is a marriage of John Gentry otp b and Sarah Ovell otp s at Great Burstead Parish Church on 12th Oct, 1814. [First noticed by Mark & Sharon Barnes.] There are no baptisms from this marriage at the parish church - which is consistent with the family being Independants. Independant chapels could be used for baptisms but could not be used for marriages until 1837.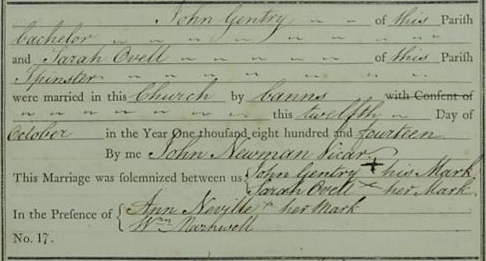 John's wife was probably the Sarah Gentry who was buried at Great Burstead on 2 Dec, 1836 (place of abode Great Burstead, age 48). This Sarah was born in 1788 (or very late 1787) so would have been the right sort of age to be married in 1814. Another Sarah Gentry was buried on 4 Oct 1846 (place of abode Billericay, age 64) but she was almost certainly the wife of Abraham Gentry of Billericay who died between the 1841 and 1851 censuses.
It appears that John remarried (Q1, 1839). Some trees on Ancestry name his second wife as Mary Harvey. This seems likely, but I have not confirmed it. [The GRO index has Q1 1839 John GENTRY Billericay 12 16A and Q1 1839 Mary HARVEY Billericay 12 16D. What is the significance of the final letter?]. A further John Gentry marriage (Q2, 1840) is that of John junior (the father of Amelia) and his first wife, Susan Mead.
The 1841 Census.
The 1841 census for Whites Farm, Great Burstead has John Gentry, 55 (b.1781-86) Male Servant, and Mary Gentry, 45 (b.1791-96) along with children Walter (15, b.1821-26), Sophia (14, b.1826/7) and Edmund (10, b.1830/1). All were born within Essex. The farmer at Whites Farm is an 80 year old lady, Mary Mead, who lives with her daughter Ann.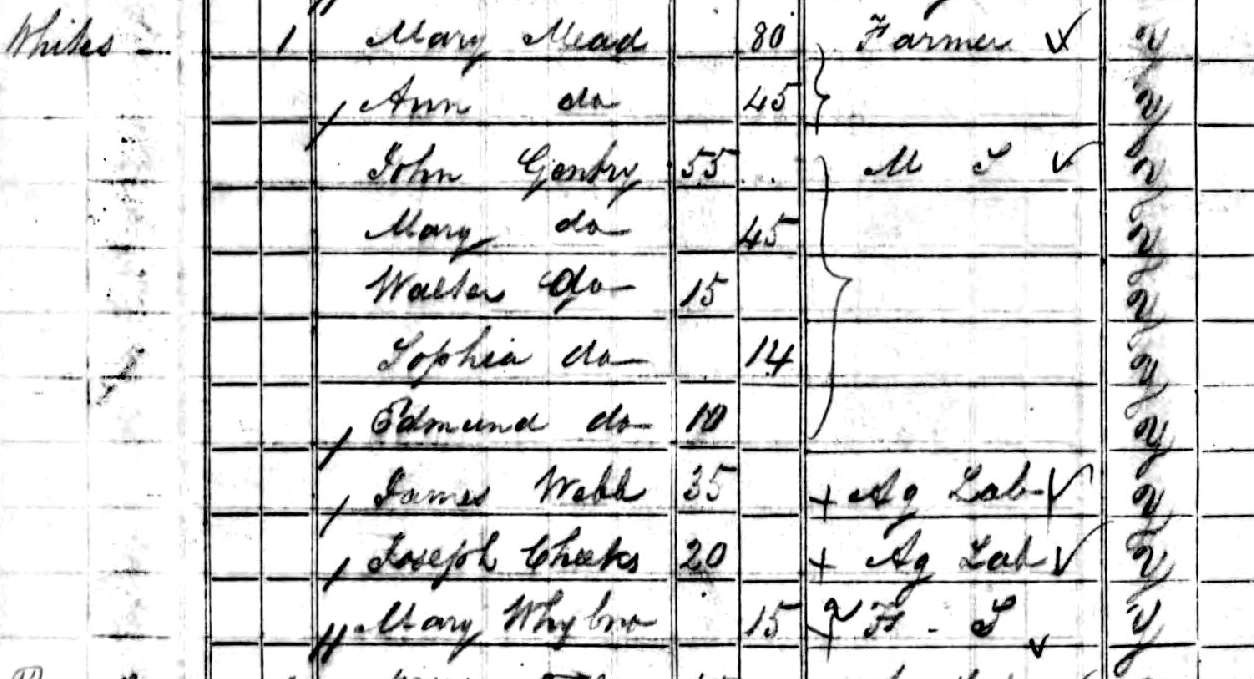 The presence of Walter indicates that this may be the family of the four brothers baptised at the Independent Meeting House in 1822. The link is confirmed by the adult baptism of Edmund at Willingale Doe in 1846: 'Edmund son of John and Sarah Gentry'. [Baptisms, Willingale Doe, 670, May 21st 1846, Edmund s. John & Sarah Gentry, Willingale Doe, Labourer, Gordon Deedes, Rector. Margin note: 'This person was 21 yrs of age & had never been baptised G. F. D.'. The baptism was performed at around the time of Edmund's marriage, which may explain why the Rector was misinformed about his age.] Further confirmation comes from the late baptism of Sophia Gentry at Great Burstead Parish Church in 1848 which gives her date of birth as 14 Sep 1827 and her parents as John and Sarah. Two other children of the couple were baptised as adults shortly before this: William (born 1823) and Emma (born 1833). A footnote in the register confirms that all three were siblings.
Walter married Mary Ann Whybro (presumably the Mary Whybro living with the Gentrys in 1841). The wedding was witnessed by William and Sophia Gentry. By the time of the 1851 census, Walter was lodging in Church Street, Great Burstead, an 'ag lab' born in Great Burstead aged 28 (which suggests that he was born in 1822/3). He died on 13 Jul, 1854, aged 32 (which suggests that he was born in 1821/2). Sophia is not identifiable in the 1851 census either under her maiden name or any likely married name. Edmund moved away from Great Burstead. While he consistently gave his place of birth as Great Burstead he was less accurate about his age. [The ages he gives on the census returns 1851-1911 suggest a birth year of abt 1828.]
Of the other three Gentry brothers baptised in 1822, Charles married Ann Carpenter in 1839 and moved to Ramsden Bellhouse, where he was an agricultural labourer in the 1841 and 1851 censuses. By 1861 he was a widower living with a 10 year old son, William, on Ramsden Heath. He probably died later that year. [Deaths Q2 1861 Billericay 4a 76.]
In the 1841 census, George was lodging in South Green, Great Burstead (very near White's Farm) a journeyman shoe maker. He died in 1847. George's trade might suggest a connection to the Shoe making Gentrys who lived in Billericay.
John Gentry married Susan Mead Q2 1840. She was the daughter of John Mead, a wheelwright living in Ramsden Crays. In 1841 John and Susan were living at White's Bridge, Ramsden Crays where he was a journeyman wheelwright - presumably employed by his father-in-law. By 1845 they appear to have moved into London where a child - John Mead Gentry - was born in 1845. [1845 Q3 St James, Westminster 1 104. Baptised 17 Aug 1845 at Ramsden Bellhouse: Entry 250, Aug 17 / John Mead / John & Susan / Gentry / Langdon Hills / Wheelwright. Langdon Hills has now been absorbed by Basildon. If the Gentrys lived here, why was the baby born in London? Maybe Susan was in the Lying-in hospital?]
Susan died at the time of the birth and was buried on 14th July at Holy Cross, Basildon. [1845 Q3 St James, Westminster 1 81. Holy Cross burials Entry 108, Susan Gentry / London / July 14th [1845] / 24 years.] The baby died shortly afterwards and was buried with his mother. [1845 Q3 Billericy 12 7. Holy Cross burials Entry 109, John Mead Gentry / Ramsden Crays / Oct 5th 1845 / 11 weeks] The fact that the mother's place of abode was recorded as 'London' and the baby's as 'Ramsden Crays' may suggest that the latter was cared for by relations after his mother's death - which supports the theory that Susan was the daughter of John Mead of Ramsden Crays.
John Gentry was recorded as 'widower' and 'wheelwright' when he married Charlotte Wright at Langdon Hills in 1847. John gave his father's occupation as 'Farm Bailiff' - which seems to be supported by the 1841 census for White's Farm. It may be significant that John senior's employer shares the surname (Mead) of John junior's first wife.
The 1851 Census
John senior and Mary are no longer living at White's Farm (which is now occupied by a much younger family). They appear to have moved to Mountnessing - a few miles to the NW of Billericay. John, 63, is described as 'ag lab' born Bocking, Essex. Mary, 60, born Nevendon. They are the only Gentrys in Mountnessing. By 1861 one of the shoe-making family of Gentrys has moved into the area. This family of John Henry Gentry (b. Billericay, 1830) may be related to our John Gentry so it is possible that JHG may have moved here on JG's information.
The 1861 Census
John and Mary are back in Great Burstead, living not far away from White's Farm. John is now described as age 75, an agricultural labourer born at Braintree, and Mary as aged 70, born at Downham. I am fairly sure that this is the same couple as 1841 and 1851. Bocking is now a suburb of Braintree and Downham and Nevenden are small villages just outside Wickford. Mary could quite easily have lived in both during her childhood.
John died Q4 1865 aged 79. Mary survived until Q1 1874. In the 1871 census Mary was an 80 year old pauper living with an attendant nurse on Burstead common. Her place of birth is given as Stock - a village between Billericay and Chelmsford.
A person born in the late eighteenth century might not be able to give an accurate place of birth. If they had moved around a lot during childhood - say as the child of an agricultural labourer subject to annual hiring - they might well struggle to give an accurate answer when required to do so in later life. Mary was clearly unwell in 1871 and the enumerator may have recorded her nurse's 'best guess' - possibly one of the childhood homes she had talked about.
The Great Burstead Gentrys
The Gentrys are first noticed in Great Burstead Parish in the later eighteenth century when they first appear in the records of the parish church. The loss of the early records of the Independant Chapel, however, makes it impossible to state with any certainty that the family was not in residence before this. Piecing together all the various entries from the church/chapel records and censuses we find four separate family lines:
1. Starts with a John Gentry born in the 1750s. He and his family are boot and shoe makers by trade. He may be the John Gentry who married Elizabeth Chessir in 1784 (and was the father of Elizabeth Gentry b. 1793). Most of his children are described in the parish register as the illegitimate children of Judith (alias Judy or Sarah) Pamplin/Pampling/Tomplin. He may also be the John Gentry, bachelor of the parish of Great Burstead, whose banns to marry Elizabeth Everard, spinster of the parish of Bocking, were called in July/Aug 1782 although there is no record of the marriage taking place in either parish (the the banns entry is marked with a cross, possibly indicating that the wedding was called off). The banns entry is interesting in so far as it suggests an early link between Gentrys in the two parishes.
2. Starts with Abraham Gentry, born in Bocking between 1771 and 1786. He had probably settled in Billericay by 1802 when he married Sarah Marshall at Great Burstead Parish Church. He and his sons were bricklayers by trade. There are two Abraham Gentry baptisms in Bocking between 1771 and 1786: Abraham s. Timothy and Mary Gentry b. 6 Oct, bap. 30 Oct 1774 and Abraham s. Edmund and Ann Gentry b. 19 Apr, bap. 27 May 1781.
3. Starts with John Gentry, Servant/Ag lab, born abt 1785 in Bocking/Braintree. This is the only John Gentry known of in the parish of Great Burstead who was the right age to be the father of our John (unless I have conflated two Johns, each married to a Mary). I have drawn a blank so far over the parentage of John's first wife, Sarah Ovell. The surname appears to occur only rarely in Essex records.
4. Starts with Daniel Gentry, Ag lab, born abt 1805 in Copford, Essex. This family is probably not closely connected to the family we are investigating.
It is possible that families 2 and 3 are connected and that Abraham and John are both sons of Edmund and Ann Gentry of Bocking. Family 1 also seems to have had connections with Bocking and may be connected through an earlier generation. There are indications of connections between 1 and 3. [As mentioned above, John senior's son, George, became a shoe-maker (the trade of 1). At about the same time that John senior moved back to Great Burstead from Mountnessing, John Henry Gentry (grandson of 1) moved to Mountnessing from Billericay. This is probably coincidental but may have been suggested to him by John senior. JHG named one of his sons Walter.]
Who were the parents of John Gentry senior?
Having identified the John Gentry of the 1841 White's Farm census as the father of our John, it would be desirable to find out some more about him. There is no record of his baptism at St Mary Magdalene, Great Burstead and the 1841 census only tells us that he was born in the county of Essex.
If I am correct in assuming that John senior can be identified with the John Gentry found living in Mountnessing in 1851 and Great Burstead in 1861, we know that he was born in either Braintree or Bocking.
According to the censuses he was born:
1841: 1781-1786
1851: 1787/8
1861: 1785/6
Allowing for the five-year age bands of the 1841 census we can probably discount 1781-4, leaving us with 1785-8.
There is no record of a Gentry being baptised at Braintree Parish Church in the 1780s.
At St Mary the Virgin, Bocking between 1780 and 1800 we find:
1783 John s Timothy & Ann b. 6 Dec bap. 14 Dec. bur 2 Feb 1784.
1785 John s Edmund & Ann b. 27 Apr bap. 29 May
1785 John s Timothy & Ann b. 27 Nov bap. 30 Nov
1787 John s Joseph & Esther b. 16 Aug bap. 29 Sep
1790 John s Michael & Mary b. 13 May bap. 8 Aug
1794 John s Joseph & Sarah b. 22 Nov bap. 21 Dec.
Some Gentrys had their children baptised elsewhere so this list may not be complete. The Bocking Independent Chapel where some later Gentrys were baptised was built in 1707 but its surviving records only begin in 1792.
I have been unable to find any direct evidence to establish which (if any) of these baptisms may refer to our John senior though there is circumstantial evidence to suggest that the second may be the most likely. John senior named his youngest son Edmund; two of the Burstead lines may be connected through common descent from Edmund and Ann; Edmund appears to have been buried at Great Burstead.
Edmund & Ann
Edmund was born 12 Apr 1755 (bap. Bocking, Apr 27), the son of William & Ann. He married Ann Woolmar at Bocking on the 18 Jul 1776. She was born 29 Apr 1758 and baptised in Bocking on 30th. Her parents were Edward and Elizabeth.
Edmund is the correct age to be the Edmund Gentry buried at Great Burstead 1 Feb 1824 aged 70. This Edmund was not baptised at Great Burstead so was probably an incomer. I have been unable to find a burial record for Edmund Gentry at Bocking. There is a possible burial for Ann at Bocking (7 Sep 1828 aged 72 so born 1756 or possibly 30 Sep 1806 age 57 so born 1749).
Edmund b. 21 Jun 1777, bur. 25 May 1784 age 6.
Joseph b. 2 Feb 1779
Abraham b. 19 Apr 1781
John b. 27 Apr 1785
Thomas b. 14 May 1787 possibly bur. 14 Aug 1788, Edmund Gentry's son, 1mo, poor.
Ann b. 6 Jul 1790
Thomas b. 2 May 1793, bap 20 Mar 1799
James b. 28 Aug 1797
Timothy & Ann
Timothy Gentry and Ann Bennett were married at Bocking 8 Sep 1783. Timothy Gentrys were baptised at Bocking in 1747, 1764, 1766, 1769. A Timothy Gentry was buried 7 May 1795 aged 32 and an Ann Gentry, widow, married John Brown on 10 Nov 1795. Edmund and Timothy were cousins.
John b. 6 Dec 1783, bur. 2 Feb 1784.
John b. 27 Nov 1785
This John may have been the John Gentry apprenticed to Henry Gentry jun, blacksmith (John's uncle), at Bocking in 1803 though he would have been a little old for an apprentice.
Joseph & Esther
Joseph Gentry and Esther Coe were married at Bocking 12 Feb 1782. Hezekiah Gentry witnessed. Hezekiah was son of Mark & Mary so I assume that Joseph was probably the son of Mark & Mary born 19 Mar 1761 (there are several other possibilities).
Mark b. 3 Nov 1782 (possibly, just listed as 'son of Joseph')
Joseph b. 2 Jun 1785.
John b. 16 Aug 1787.
William b. 4 Dec 1789.
Mary b. 4 May 1792. 'Joseph Gentry's child age 1yr 1mo Poor' bur 24 Jun, 1793.
Isaac b. 9 May 1794.
Ann b. 18 Oct 1798. } These two dates don't add up but are as
Hezekiah b. 15 Apr 1798. } recorded in register.
Mary b. 6 May 1801.
Michael b. 29 Nov 1803
Michael & Mary
Michael Gentry married Mary Straight at Bocking on 17 May, 1885. The marriage was witnessed by Timothy Gentry and Henry Gentry (who had just been appointed parish clerk so may not have been a family member). The only suitable Michael Gentry mentioned in the Bocking baptismal register was born 22 Nov. 1761, the son of Joseph & Mary. A Michael Gentry was buried in Bocking on 5 Dec 1824 aged 62.
Michael b. 18 Jun 1786.
Mary b. 23 Dec. 1787.
John b. 13 May, 1790.
Jane b. 10 Dec 1792. ?Married James Hodges otp wid, 7 Jul 1818?
Susanna b. 6 Apr. 1795. ?Married James Moss of Braintree, 4 Dec 1822?
Joseph b. 2 Nov. 1797.
What Happened to the Johns?
1785 John s Edmund & Ann b. 27 Apr bap. 29 May
1785 John s Timothy & Ann b. 27 Nov bap. 30 Nov
1787 John s Joseph & Esther b. 16 Aug bap. 29 Sep
1790 John s Michael & Mary b. 13 May bap. 8 Aug
None of the John Gentry marriages at St Mary the Virgin, Bocking between 1800 and 1835 links to our John of Great Burstead. They can all be shown to belong to different family groups.
John Gentry otp b. Sarah Bentley otp s. 25 Sep 1813
John Gentry otp wid. Elizabeth Newton otp s 25 Jan 1814
John Gentry otp b. Mary Paul otp s 13 Apr 1819
1. John & Sarah had issue baptised in Bocking
Eliza 1813
Caroline 1815
William 1817
Charles 1820 Witness at wedding of Sophia.
Mary Ann 1822 Witness at weddings of Sophia & Sarah.
Sophia 1825 Mar William Cooper 11 Sep 1846 father John Gentry, Labourer.
Sarah 1826 Mar Charles Mott 5 Mar 1847 father John Gentry, Labourer.
John Born Wethersfield but not baptised at the parish church there.
Alfred Born Wethersfield but not baptised at the parish church there.
This John was 45-49 in 1841 (= b. 1791-96), 60 in 1851, and 70 in 1861 (= b. 1790/1). So probably 1790-1791. By the time of his burial on 9 Feb 1870 at Woodham Ferrers (close to East Hanningfield where he was living in 1861) he had aged to 87 (ie b. 1783).
2. John & Elizabeth had no issue baptised at St Mary the Virgin, Bocking. The middle name of the child Edward suggests that they were probably the parents of children baptised at Bocking Independent Chapel (all recorded as the children of John and Elizabeth Gentry) including:
John 1814
Ann 1816
William 1818 mar Sarah Fuller 1838.
Phoebe 1820
Edward Newton 1826 mar Susannah Ince 1848
This is the family of the apparently widowed John the Whitesmith in 1841 census. His wife was posssibly the Elizabeth Gentry, age 54 buried at the parish church 17 Dec 1840. John does not appear in the 1851 census so is probably the John Gentry bur. Bocking 9 Jun 1849 aged 63 (= b. 1785/6).
3. John & Mary had issue baptised in Bocking:
William 1820
Mary Ann 1822
John 1825
Elizabeth 1827
Susanna 1830
Jane 1832
Charles 1835
This family matches one still living in Bocking in 1881. Mary is probably the Mary Gentry age 49 buried at Bocking 31 Mar 1840. In 1851 John's Birth date equates to 1791/2. in 1861 and 1871 it equates to 1790/1 and by 1881 it has extended to 1785/6. At John's burial, 28 May 1881, his age was recorded as 94 (so born 1787).
Marriages Elsewhere.
In nearby Braintree there is a further marriage at the Parish Church:
288. John Gentry b otp, and Elizabeth Johnson s otp. Banns. 8 September 1807. Both signed as did all witnesses (Mary Surry, Thomas Smoothy, John Collis [latter probably parish clerk as he witnesses lots of marriages]).
There was no John Gentry baptised in Braintree 1740-1812 so this one is possibly one of our 6 Bocking baptisms. There are no Gentry baptisms at Braintree 1807-12.
There is a burial of an 'Elizabeth Gentry (Married Woman) age 23' at Bocking 16 Jun 1812. As there was no Gentry/Elizabeth marriage in Bocking between 1803 and 1814 this may well be wife of the Braintree marriage.
Johns in 1841 census age 45-60 born in Essex.
1. John Gentry, 55, Whitesmith, Bradford St., Bocking, Children John 25, Ann 20, William 20, Edward 14. This family matchs the one baptised at Bocking Independent Chapel: John (bap 1815), Ann (1816), William (1818), Phoebe (1820), Edward Newton (1826) all the children of John Gentry. Probably died Q2 1849 Braintree 12 13 (Bocking burials 1924 John Gentry, abode: Bocking, Bur 9 Jun 1849 aged 63. suggesting born 1786). Edward Newton Gentry, son of John Gentry, Whitesmith was married 25 Dec 1848. [Family 2]
2. John Gentry, 60, Ag Lab, Purleigh. Rachel Gentry 60.
3. John Gentry, 55, Ag Lab, Grays, Richard, 20, Lab in chalk works.
4. John Gentry, 55, MS, Whites Farm, Great Burstead. [Family 4 (John senior)]
5. John Gentry, 45, Ag Lab, High Green Road, Bocking, William 20, John 15, Susannah 10, Jane 8, Charles 5. [Family 3] Next door to George 30 gardener, Francis 23, Samuel 2mo.
6. Adjoining Victoria Beer Shop, Bocking. John 45, Ag Lab, Sarah 45, Sarah 14 Silk winder, John 11 Ag Lab, Alfred 8. [Family 1]
Also Elizabeth, 59, Church St, Bocking. With Eliza, 22, Silk winder, & George 16 Ag Lab. [Widow and family of William Gentry.]
Johns in 1851 census born Bocking age 55-70
1). John Gentry, Mountnessing, 63, Ag Lab [Family 4 (John Senior)]
2). John Gentry, Church St., Bocking, 60, Widower, Ag lab, father of Eliza Parmenter, silk winder, Mary Ann, John & Alfred Gentry. (so b. 1791) Eliza & Mary Ann b. Bocking, John & Alfred b Wethersfield (but not bap there.) [Family 1]
3). John Gentry, Wid, 59, Ag Lab, High Garrett Road, Bocking. Living with son William, 33, Jane, 19, Charles, 16. These match members of family of John & Mary. [Family 3] Living next door but one is George, 35, and next door, Silvia, 32.
Johns in 1861 census born Bocking.
1 John, Widr, 70, Born Bocking, Living in East Hanningfield with Daughter and Son-in-Law, Sarah, 34, and Charles, 37, Mott. [Their son, Charles, married Elizabeth Wright, who was born at the Anchor Inn, Hullbridge, and was the cousin of William Lewin. Coincidence?] [Family 1]
2 John, Widr, 70, Born Bocking, Living cottages nr Bridge, Bocking. With son Charles, 25, [Family 3]
3 John, 75, Born Braintree, Living in Great Burstead with wife Mary, 70, b. Downham. [Family 4 (John senior)]
Johns in 1871 census born Bocking.
1 John, Widr, 80, Born Bocking, Bridge End, Bocking, with son Charles, 37, & his family.
Johns in 1881 census born Bocking.
1 John, Widr, 95, still living with son Charles and his family.
So we have identified four John Gentry families:
| | | | | | | | |
| --- | --- | --- | --- | --- | --- | --- | --- |
| | 1841 | 1851 | 1861 | 1871 | 1881 | | born abt. |
| John 2 | 55-9 | | | | | d. 1849 age 63 | 1785/6 |
| John 4 | 55-9 | 63 | 75 | 1 | 1881 | d. 1865 | 1785/6 |
| John 1 | 45-91 | 60 | 70 | | | d. 1870 age 87 | 1790/1 |
| John 3 | 45-9 | 59 | 70 | 80 | 95 | d. 1881 age 94 | 1790/1 |
from six baptisms:
1783 John s Timothy & Ann b. 6 Dec bap. 14 Dec. bur 2 Feb 1784.
1785 John s Edmund & Ann b. 27 Apr bap. 29 May
1785 John s Timothy & Ann b. 27 Nov bap. 30 Nov
1787 John s Joseph & Esther b. 16 Aug bap. 29 Sep
1790 John s Michael & Mary b. 13 May bap. 8 Aug
1794 John s Joseph & Sarah b. 22 Nov bap. 21 Dec.
Only one baptism can be eliminated via the burial register. It must be assumed that all the other five Johns survived until the 1841 census or are buried elsewhere.
The census ages do not distinguish clearly enough to match with the baptisms exactly or to clearly exclude the 'surplus' John. However, they do seem to indicate that Johns 1 and 3 are younger than Johns 2 and 4. So we can probably say with some confidence that John senior was one of the three Johns born in 1785 or 1787.
Most likely identification.
1) John senior had three possible fathers, Edmund, Timothy and Joseph. The only one of these names which he used for any of his own sons was Edmund.
2) Edmund Gentry (the possible father) appears to have been buried at Great Burstead.
3) Abraham Gentry, the bricklayer from Billericay, was born in Bocking and was probably also the son of Edmund.
Given these circumstantial facts I believe that John senior is most likely to be the son of Edmund Gentry.
Other possibilities.
The Edmund Gentry buried at Great Burstead is recorded in the burial register as 'abode: Billericay'. If he was the father of Abraham Gentry, this would be sufficient to explain his presence in the parish. It is possible that John senior went to Great Burstead not because he had a brother who already lived there but for some other reason.
One possible mechanism is this: Timothy Gentry (another possible father) died in 1795 when his son John was 9. His widow Ann remarried soon afterwards. The John Gentry, shoemaker, of Billericay may have been a cousin of Timothy who took in the Child. [He is of an age to be the son of William & Mary, bap Bocking in 1753 and so possibly the grandson of Edmund and Sarah - the parents of Timothy's father Henry.]
It is possible that John was a child of the marriage of John Gentry and Elizabeth Chessir at Great Burstead in 1784. A male son, born about a year after the marriage and given the father's name would appear to be quite likely. According to the parish register, John and Elizabeth only had one child baptised at Great Burstead but, like the later John, they may have been Independents and a record of their baptisms may have been lost.
However, taking together several points - the broken engagement to Elizabeth Everard; the fact that John and Elizabeth had only one child - a daughter, Elizabeth, baptised nine years after the marriage - and that a John Gentry had a string of illegitimate children baptised between 1788 and 1803; I am inclined to think that the reason that more children are not recorded is that the marriage was not a success and did not produce them.
For this reason, and because of the probability that John was actually born in Braintree or Bocking I have discounted the possibility of John being the child of John Gentry and Elizabeth Chessir.