The Eabys
Eaby is an unusual name in England, so this should make tracing the family easier. WRONG! Eaby is sufficiently unusual that it is usually mistranscribed. Ealy, Sealy, Faby, Raby, take your pick!
The family possibly descend from a German sailor who settled in the Hull area. So far, I have only traced back to Francis Eaby who was born in about 1756. He married Mary Smith at East Halton, Lincolnshire, in 1796. He seems to have known her for longer though, as seven years earlier, on 6 Dec, 1789 the Vicar of East Halton had recorded the baptism of:
John the son of Mary Smith, a love begot, the supposed father Francis Eaby.
In 1801, the couple had another child, William, baptised at East Halton. William became a wheelwright and, by 1840, he had settled in Barrow upon Humber, Lincolnshire. In that year William is listed as 'insolvent' - possibly as a result of the same difficulties with alcohol abuse which blighted the lives of several of his children.
William had married Mary Franks in 1823. She was the daughter of John Franks, a Yorkshireman from Pontefract, and, latterly, a publican in Barrow.
William and Mary had at least six children. The oldest son, John, stayed in Barrow. He was recorded as a groom in 1851 but as a carpenter in 1861. In 1881, still unmarried, he was living with his aunt, a retired schoolteacher. John does not appear to have been a model citizen. On 3rd June, 1864 the Lincolnshire Chronicle recorded:
A man named EABY was fined 10s and costs for being drunk and disorderly at Barrow.
John died in 1885. The police were sufficiently concerned about the circumstances as to request an inquest:
Allegation of Foul Play.- On Thursday the 23d Dr. Moody, coroner, held an inquest at the Royal Oak inn, Barrow, on view of the body of John Eaby, aged 62, who died on the 21st inst. It appeared from the evidence adduced that the deceased, who was of intemperate habits, was drinking heavily on the day named, and from all the circumstances attending his death Dr. Shearwood was willing to certify the cause of death to be apoplexy.
A report, however, had been set afloat that a number of youths had ill-used the deceased, and that his death had been caused, or, at any rate accelerated by this treatment. In the face of these rumours the police authorities deemed it prudent to request an official inquiry. Several witnesses were examined at considerable length. The evidence, having corroborated the medical theory, the jury found that deceased had died from apoplexy. As this is the second death in 18 months which has been associated with drunken frays at New Holland many people still believe there is some truth in the rumour. [Stamford Mercury - Fri 31 Jul, 1885].
William and Mary's second son, Francis, was apprenticed as a carpenter. In 1868 he married Emily Humphrey from Waltham in Sussex. By 1871 they were living in Wandsworth. The birthplaces of his children show that they moved about the country for several years looking for work. Their first son, Francis was born in Croydon, a daughter, Lilly, in Kingston-on-Thames and a son, William in Hastings, Sussex. By 1881 they were living back in Barrow where Emily died in 1886. Shortly afterwards, Francis moved the family to London where they lived for a time in Whitechapel. Francis remarried in 1892 at St George in the East, London.
Francis moved to Leigh-on-Sea, Essex, presumably to be near his sons Francis (my greatgrandfather) and Sidney who had settled there. He died on Christmas Day, 1903:
DROWNED ON CHRISTMAS DAY. At Leigh-on-Sea a Coroner's jury returned a verdict of "Accidentally drowned" in the case of Mr. Francis Eaby, a well-known local builder, whose body was found in a deep, unprotected pond, with steep sides, caused by excavations for clay. Deceased visited the Grand Hotel early on Christmas evening, and left to go home to tea. He was not again seen alive, and it is surmised that while walking near an old disused pottery he fell into the pond. [Coventry Evening Telegraph 31st Dec 1903.
Clearly the implication is that he was drunk - . My Nan, Francis' grandaughter, was a lifelong crusading teetotaler, possibly because of the effect of drink on her grandfather. She was also fearful of depression, and always on the lookout for signs of this illness, so perhaps the family thought that Francis went into the pond intentionally.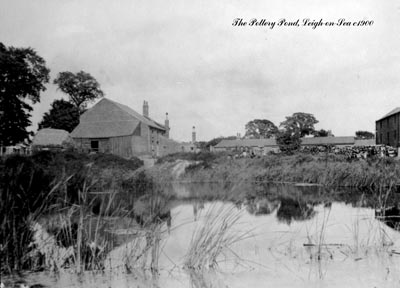 A friend tells me that a book Legends of Leigh states that Francis' funeral costs were £9-18-0 - I'm not quite sure why the book would include this fact. Maybe it is because the pond is known as the 'Doom Pond' or 'Witches Pond' and is supposed to be where witches were 'ducked' in times of old. It is said to be cursed. The pond is fed by an underground spring and has been the subject of many improvement schemes. A small supermarket was built on the site in the 1970s but the spring ruined its foundations so it had to be demolished. In the early 2000s a multi-story block of luxury flats was built on the site - I wonder if it will survive the curse!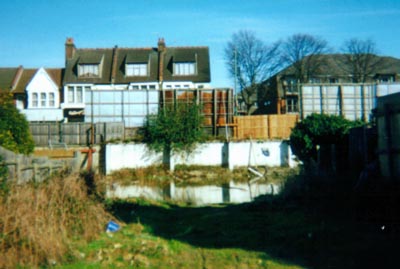 Pottery Pool in 2000 - just prior to redevelopment.
Francis is remembered on a monument in Barrow Cemetery:
Francis EABY d. 25 December 1903 Age 64 (Interred at Leigh on Sea Essex), Emily EABY wife d. 17 Sep 1886 Age 42, John EABY brother of above d. 21 July 1885 Age 62. [Section B row H]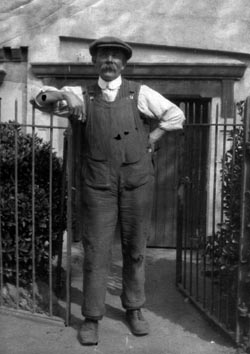 Francis Eaby junior
Francis junior (Francis Robert William John Eaby to give him his full name) was Francis oldest son. He settled at Leigh-on-Sea where he ran a building firm. He married Fanny Tanter at Christ Church, Stepney on Christmas Day 1890. They had two daughters, Frances Eva (my Nana) and Florence Emily.
When she was a young woman, Frances Eva is said to have spent some time nursing an alcoholic relation in Hull - presumably an Eaby.