Carpenters and Coalminers.
My maternal grandmother's name was Violet Minnie Garner. Although I was nearly ten when she died, I hardly knew her because she had emigrated to New Zealand before my birth. My only contact with Violet was through the cards and presents which we sent each other. My parent's always spoke of her with great affection - but as if she had lived a hard and rather sad life.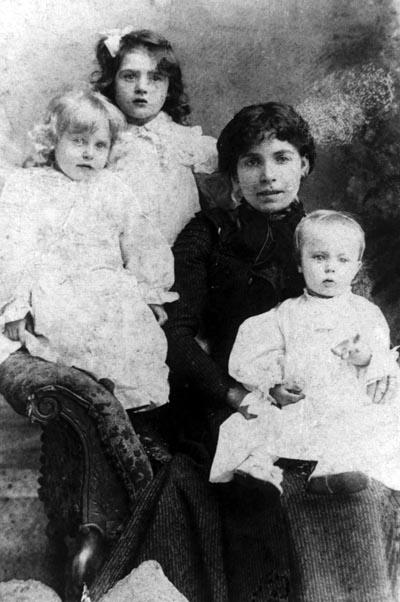 L to R: Violet, Hilda, Alice, ?
Violet was born on the 13th of November, 1897, the second daughter of Ernest Garner and Alice Jane Matthews. Her early years were not happy - she told her daughters that she and her sister were often left alone locked in the house at night. She was terrified that the house would catch fire and she would be burned alive.
Violet said that when she was about five years old, her mother (who had been a barmaid so was, by definition, 'flighty'), tired of her husband and ran away, taking the girls with her. She was unable to support herself and eventually fell ill and died in the workhouse infirmary. The workhouse authorities didn't want the children 'tarnished' by admitting them, so they returned them to their father (who had, by this time, 'taken up' with another woman).
After several years of fruitless searching, I eventually discovered that this story was a fiction. Alice had not died while her daughters were young children - she lived until 1916, dying from TB when Violet was 18. In 1911 she was living just around the corner from her old family as the wife of Benjamin Fuller, a thirty-nine year old general labourer. On the census return he declared that they had been married three years and the marriage had produced one child, a daughter, Ivy Elizabeth Fuller (born Q4 1909).
In 1911 Ernest and his older daughter, Hilda, were living as boarders in the house of a widow, Elizabeth Yare. Alice's younger daughter, Violet was living with her grandfather, Stephen Garner.
Ernest obviously knew where Alice was, as within a month of her death he and Benjamin had sworn a statutary declaration to the Registrar in order to correct the details on Alice's death certificate (which initially stated that she was the wife of Benjamin Fuller). Several months after Alice's death, Ernest and Elizabeth Yare were married.
Violet told her daughter that she had lived with an Aunt Polly (maybe Pamela Garner, who kept house for her father, Violet's grandfather, Stephen). Later she lived with Ernest and his new wife. It is hard to believe that she had no idea that her mother was living so close by.
After she left school she worked as a live-in mother's help to a family called Boyle in Westcliff, Essex. (At the time there was a ferry service between Ramsgate and Southend, so this was less of a journey than it appears now.) While working for the Boyles she met her future husband, Cecil Gulliver. See: Grandad Cecil